---
MOBILE FLEET CONTROL CENTER
USS IMZADI NCC 70637-1

As a prototype the USS Galaxy lead by then Captain William Coast has designed a Mobile Fleet Control Center (MFCC) from a modified Blackhawk class runabout. This ship can cruise at warp nine point five and carrys no weapons. In excange for weapons, sensor and communication systems have been modified and upgraded to allow better communication during a battle for fleet excercises. This is MFCC also contains a Vulcan cloaking device. Right now the MFCC is complete and testing has taken place in the field. The Mobile Fleet Control Center will normally be staffed by 12 personnal.
The Mobile Fleet Control Center is now transfered to the Flagship of Task Force 58 for use in the event of fleet missions. Admiral Coast-Endas' aide uses the MFCC for inspections of other Task Force 58 starships
Testing is continuing on the MFCC and could soon be put into full production at Avalon Ship Yards.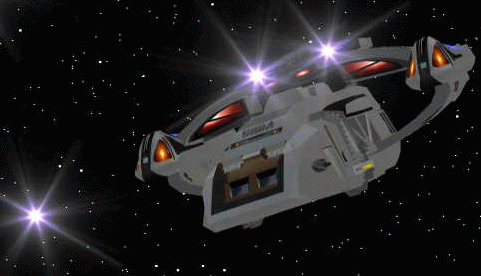 The USS Imzadi above Launching Communication Bouys in Systems testing.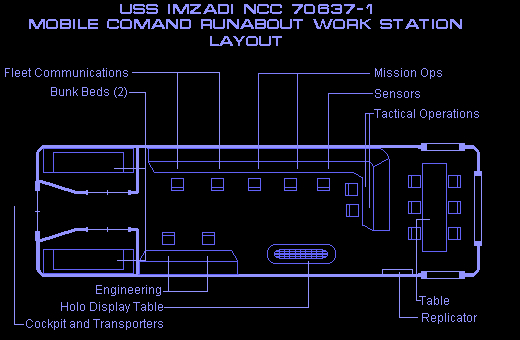 Special Notes:

Design Team:
Captain William Coast-Endas Team Leader, Chief Designer
Commander Lodebek Assistant Team Leader
Commander Austen Star Interior Designer / Communications Specialist
Lieutenant James Powell Flight Control Systems Specialist
Lieutenant Serghy Kuchov Chief Construction Officer & Cloak Specalist
Ensign Robert Finly Engine & Warp Systems Specialist
Ensign Garr Computer Interface Specialist

---
CLICK ON YOUR COMMUNICATOR TO BEAM BACK TO THE SHUTTLEBAY