---
COMMANDING OFFICER'S READY ROOM
Welcome to my ready room, I am Rear Admiral William Coast-Endas, Commanding Officer of this fine starship. From my office is where I'll live for days at a time, being only seconds away from the bridge. I use this office for reading reports, talking with crewmembers privately, sleeping, eating, and for the optional game of poker. This is my 2nd home on the ship. Feel free to walk around.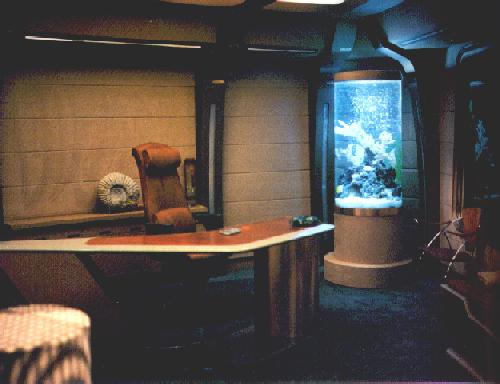 This ready room also has its own replicator and computer station, which allows me access to the main computer, as well as the ability to moniter any ship system.
I like to have a few personal pieces here but I prefer to spend time with my wife in our quarters. The room does however, have a large painting of the Agamemnon behind the desk (Not Shown) as well as a perch for my Betazoidian leeta bird named whirlwind when he comes to my office. (A leeta bird is like a Earth Toucan except it's far better trained and it can understand what your thinking.)
These are the awards that I have recieved in my years of StarFleet. I now keep them in my office.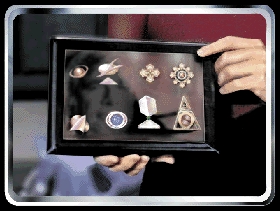 Federation medal of Valor
Starfleet Medal of Honor
Federation Peace medal
Cluster for the Federation Medal of Honor award
Cluster for the Starfleet Command Legion of Honor award
2 Clusters for The Starcross
Combat injury ribbon
Vulcan assistance ribbon
Denebian Swan of Merit




I've placed a picture of the USS Agamemnon in my office as a reminder that no matter what damage may come to her that she is still a thing of beauty.
---
CLICK ON YOUR COMMUNICATOR TO GO BACK TO THE BRIDGE