FLIGHT CONTROL STATION
~MAIN BRIDGE~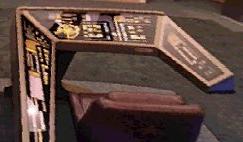 The Flight control Officer's (Commonly reffered to as the helm) job is directly responsible for the navigation and control of the ship.

From this Station you can access information on different regions of space and thier planets.
This information is not availiable at this time due to system refits.

---

CLICK ON YOUR COMMUNICATOR TO LOOK AROUND THE BRIDGE.