COMMANDING OFFICER'S STATION
~MAIN BRIDGE~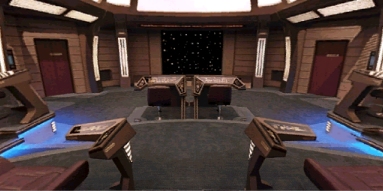 In this center seat rear Admiral Coast-Endas, or the most senior officer, can take command of the Agamemnon and access information from all stations onboard the ship from two arm control pannels. Also from this station you can check up on the Admiral's latest ship logs and even some of his personnal logs.
Admiral's Log Stardate: XXXXX.X
The Agamemnon has just departed from Avalon Fleet Yards with it's new Saucer Bridge Module and repairs have been completed on all systems and new personnal have come onboard. We're not expecting any problems with our new systems and we're about to begin our next mission with a quick layover dropping off Personnal at Betazed.
End of Log.
Admiral's Personal Log Stardate XXXXX.X
My Wife Brieannia wishes to go back to Betazed for the next few months and see her mother so the Agamemnon will be making a quick layover at betazed for a few hours. It will also give the Agamemnon a chance to transport Personnal to the Federation Embassy on Betazed..
End of Log.
---

CLICK ON YOUR COMMUNICATOR TO LOOK AROUND THE BRIDGE.